There's nothing quite like getting your workout done on the sand.  Beach running is a great tool for any runner, regardless of their ability level and has some wonderful benefits.  It can also have some potential pitfalls.  Here's Team ECRP's list of things to think about before you head to get sandy.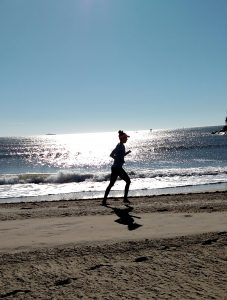 Take it easy.  Running in the sand is harder than running on the road.  The soft, slippery surface makes out tendons and muscles work extra hard to keep up standing upright.  Up to 1.6 times as hard according to a 1998 Belgian study.  If you're not used to tackling workouts in the soft stuff, be sure to slow your pace down and shorten your run.
Choose wisely.  Some beaches are cleaner than others.  Some beaches are longer than others.  Pick one you know can meet your needs for distance without putting you in danger of crashing into some serious rocks.  Look for uncrowded areas without lots of visible debris before you head out.
Pick shoes (or not).  Odds are you don't want to splashing through the water in your brand new racing flats.  Pick a solid but older pair of shoes that will support your run without making you worry about their condition.  Should you opt to go barefoot, be careful of shells, sticks, rocks and rough sand.
Check the tides.  Beach running at high tide leaves you with one option:  deep, soft sand.  That's a fantastic way to get a great strength workout in but it's not your only choice.  Look for low tide and you'll have the entire beach to choose from.  Packed firm wet sand, middle ground sand or that soft stuff.  No matter what depth of sand you choose, take an out-and-back route.  Every beach is slanted and you'll want to stay even.
Safety first.  Just like the sand is making your legs work harder than they do on the road, it's likely your beach running takes place when it's warm out.  Not only will temperatures be higher, most beaches lack trees or stretches of shade.  Make sure you have a solid hydration plan, proper warm weather clothing, a hat or sunglasses and sunblock.
Keep in mind that beach running is harder than the road so you'll want to shorten your run or slow down the pace.  Take your pick of pros and cons then hit the sand for your next workout!
Coach Meredith