Plyometrics are one of the most valuable tools runners can have at their disposal.  They are defined as "a system of of exercise(s) in which the muscles are repeatedly stretched and suddenly contracted."  The goods news that includes running.  Yes, running itself can be a plyometric exercise, especially sprinting.  The second piece of good news about plyometric work is that it's tons of fun while benefiting your running in several ways.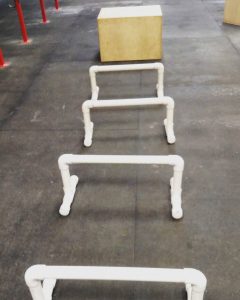 Those benefits include building power, strength and coordination.  Explosive exercises have been shown to increase your running economy and speed more than dynamic weight training.  How?  Jumping requires lots of fast twitch muscle fibers to work together.  The advantage of training fast twitch fibers to work is that it teaches muscles to generate more power.  The more force you put into the ground the less time you spend there.  Less time on the ground means a faster finish in your next time trial.
Plyometrics also teach our bodies to use oxygen more efficiently.  If a muscle can generate lots of power or force quickly it's going to be more efficient at any speed or effort level.  Yet another advantage?  You're likely to be a little less sore after a good hard plyo workout than you might be after a heavy weight training session.
To start your plyometric program, find things to jump on, over and up.  Boxes, agility ladders, stairs, hills or even nothing at all will give you plenty to work with.  Examples of exercises include box jumps, jumping rope, agility ladder drills, bounding and skipping.  Jump squats, jumping lunges, single leg hops and broad jumps are other useful options.
The variety of exercises you can include in your plyometrics routine is endless.  Find and consult with a qualified coach to begin your plyometric training and see better finish times in just a few weeks.
Coach Meredith