Everyone loves a good song.  It gets you pumped up for your workout and can keep you going when it gets tough.  Unfortunately most training runs don't feature bands or DJs along the course.  That leaves it up to us runners to provide our own tunes and that's most often by listening via headphones.  While rocking out during a workout can have benefits there are also potential drawbacks.  Here are a few of the pros and cons Team ECRP faces when making the choice to run with or without headphones.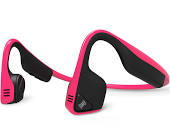 Pros:
Relaxation – Music is a great tool for helping runners stay relaxed while working out.  If you're singing along you're not getting tense and that's a good thing.  Especially during a tough workout a little distraction, as long as you can keep pushing, goes a long way to making it more bearable.
Cadence – One of the keys to good form and fast finish times is a high step rate or cadence.  Using headphones so you can listen to a song with the right beat or a metronome can be a big help.  The key is to use those headphones as a tool to help you improve and not become dependent on them for success.
Cons:
Safety – The way a song can help you relax or stay on the beat also means it's a distraction.  From the trail below you to emergency vehicle sirens it's important to be extra aware of your surroundings when you have something in your ear.  Try only putting in one side or keeping the volume very low.  You'll be able to hear what's going on around you as well as your favorite tune.  That's a win for everyone.
Dependence – Counting on something with a battery life can be risky.  If you're unable to power through a rough session without your music, what happens on race day?  You're usually not eligible for awards if you race in headphones anyway.  Get used to ditching them every now and then to prepare for when something doesn't go your way.
Coach Meredith