Runners get hurt all the time.  Whether it's from doing too much without a day off, slipping on a rocky trail run or simply stubbing a toe, getting hurt happens.  Running injuries are more than common and bouncing back from one can be as simple as ice and elevation or as complicated as surgery and physical therapy.  In truth, however, they're quite often very preventable.
Were you tackled in a football game?  That's easy to source.  Do you have daily low back pain and discomfort?  Maybe your hamstrings are tight or weak.  Are you having knee pain because you over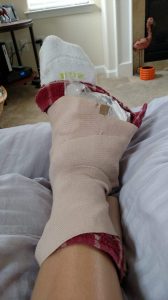 stride while you run?  Foot pain from weak glutes?  Finding the source isn't always easy but it's always necessary.
That's because simply taking time off until your injured body feels better isn't the answer.  Without understanding where your injury came from you're likely to go out and sooner or later go through the same thing again.  So what's the solution?  Find and treat the source (poor mobility, bad form), not the symptom (pain, strained muscle).  Examples include foot problems from a lack of glute strength or knee pain from over striding.  The location of your injury isn't where it presents because your body compensates to continue functioning.  These compensations can end up causing something even more serious.
To get to the root, ask yourself these questions:
What was I doing?
Are my movement patterns correct?
Do I have adequate mobility to perform these movements safely?
Am I using the correct equipment?
Do I take care of my body before and after a workout properly?
Am I over training?
Answering these questions will probably mean getting help from a coach, doctor or teacher who has the knowledge to guide you.  Get to the root cause, upstream or down, of your problem and kiss (most of) those running injuries goodbye.
Coach Meredith