The muscles of your hips and glutes are the driving force behind running.  The stronger they are the more they will help you stay healthy and hit fast splits.  Mighty glutes are a must for harnessing your body's power while stable hips mean good form through all your miles.  Use these four hip strength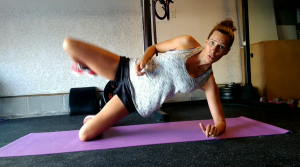 exercises to get those muscle groups going and reap the rewards during your next race.
Side lying hip raise.  Begin by laying on your side.  Using your bottom shin and elbow as support, simultaneously raise your hip off the ground and top leg into the air.  Keep your shin bones parallel.  You'll build all around hip strength with this exercise as both hips work through the entire movement.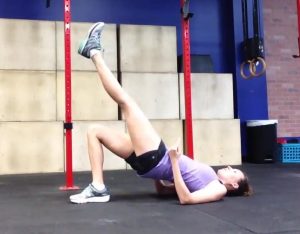 Glute bridge/single leg.  This exercise strengthens your your glutes for more power.  Lying on your back, bend your knees so your heels are close to your butt.  Using your glutes push your hips into the air with a strong, stable core.  Stick one leg out for the single leg variation.
Cla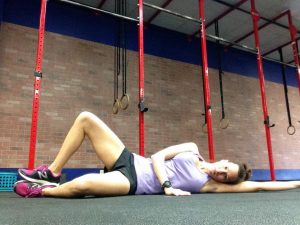 m shells.  Fire up your glutes with this simple movement.  Laying on your side, stack your legs with bent knees.  Keep your feet together while you raise your top knee into the air like you're opening a book ( or a clam shell).  Really squeeze the active glute and maintain a neutral spine with a strong core to get the most out of each rep.
Donkey kicks.  Donkey kicks are sure to fire up your glutes.  As your running powerhouse you can't do enough to get them ready for a workout.  Starting on all fours, raise one leg behind you with the knee at 90 degrees until your hip is open.  Engage that side's glute and use a pulsing contraction to active and strengthen your booty.  Be sure to keep your lower back still as you move by having a strong core and controlled breathing.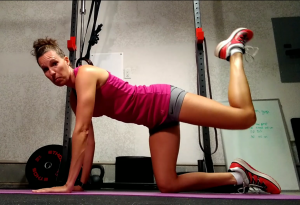 While these exercises might look simple they can be tough in the beginning as your body learns new firing patterns and works muscles in new ways.  As with most strength programs start slowly.  You can always add a band or other form of resistance later!
Adding these exercises to your strength routine will help you become a more durable runner who can stay healthy for the long term.  For help with an appropriate strength program seek the guidance of an experienced coach and get stronger today!
Coach Meredith