Winter running brings its own set of challenges.  From the potential for nasty weather that includes rain, snow and even ice to fewer daylight hours those winter months can be tough.  One of the toughest things to deal with can be your wardrobe. So, what running gear do you need to tackle those hard winter days?
That's a hard question.  Some people are comfortable in shorts when it's hovering around freezing and others throw on a puffer when temps hit 60.  Where you grew up, the weather conditions you were exposed to, what you're used to and your DNA all play a part in what running gear you'll want to sport.  Here are a few guidelines Team ECRP uses to help choose what to put on before heading out.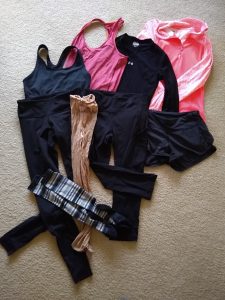 Layers are your friend.  It's easy to cool off but not so easy to warm up.  You're better off dressing in more than you think you might need.  Zippers are a nice way to let additional air in and sleeves can always be rolled up.  Do not discount stockings or tucking in your shirt.  Stockings can keep you warm without adding weight and help wick sweat away from your hard working body.  Yes, even for the men.  Tucking in your shirt will help trap heat when you're chilly and undoing it will let a little cool air flow when you're warm.
Pretend it's warmer.  Twenty degrees is a good ballpark.  If the feels like is 50 throw on what you would to walk around when it's 70.  This accounts for the rise in core temperature associated with exercise.  Highly variable from person to person you'll want to experiment with different set-ups until you learn what works best for your body.
Accessories like gloves, mittens, hats, ear warmers and wool socks are a must.  Blood goes away from extremities to keep working muscles going and leaves these end of the line body parts vulnerable.  Frost bite is no fun and can happen quickly.  These small running gear additions are easy to stow in pockets when you get warm. Except the socks. They also come in all kinds of fancy colors and patterns, giving you lots of ways to have fun with your gear on what might otherwise be an unexciting run.
Wind and precipitation can also throw a wrench in your running clothing plan.  Waterproof gear can trap heat while getting soaked will make you quite a bit cooler.  A headwind will likewise cool you.  When you turn around, however, the tailwind will warm you up again.  Headwinds also take more than they give.  A big headwind can slow you down almost twice as much as an equal tailwind will help you.
No matter what you wear while you run, have something dry to toss on when you're finished.  You'll want to get that sweaty running gear and all of the bacteria it holds sooner rather than later.  How soon?  That depends.  The human body is very adaptable.  It will adjust to any condition you repeatedly put it in if given enough time.  Even though you have those dry clothes handy, it can benefit you to stay in the sweaty ones just a tad bit longer.  This helps your body learn to deal with tougher conditions and could make your next crummy weather run a little less so.
The best way to find what works for your winter training wardrobe is to get out there.  Try different combinations of running gear on short runs.  Most importantly, training in any weather will make you ready to race in whatever conditions show up on race day.
Coach Meredith