It's hard for runners to slow down.  There's nothing more fun than running fast and knocking out a good, hard sweat session.  How would you get faster without them?  Unfortunately your body can't handle strenuous workouts all the time without breaking down.  Alternating challenging workout days with easy run days, or even more than one between, is the structure of any solid training plan.  Here are three reasons Team ECRP loves their easy run days just as much as workout days.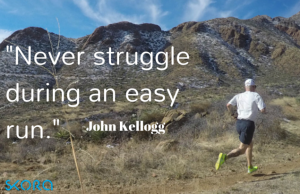 Build – You'll build a foundation on easy run days.  This foundation is how your body adjusts to the stresses of distance running over time.  Easy running will help you earn stronger bones, tougher joints, improved running economy, develop slow twitch, fat burning muscles and increased aerobic capacity.
Relax – Easy days are low stress.  They're for running with friends, checking out new routes or trails and forgetting the trials of the day.  You need fast workouts to improve turnover, create more mitochondria and increase VO2max but those sessions aren't exactly relaxing or fun.  Easy days remind us why we love running.
Recovery –  Going fast is hard on your body.  After tough workouts it has to repair damaged muscle, expand blood vessels and learn to process more oxygen.  An easy workout helps clear out waste from muscles, improve circulation and might actually help speed muscle recovery.  If you push all the time those processes never get to finish their jobs and you're inviting over training and burnout. Easy or recovery runs give your body a chance to make all of the positive performance enhancing adaptations it can.
The most important thing is to make sure your easy running is just that.  Easy.  Aim to be at least one minute slower than your goal race pace for the duration of an easy workout.  As your fitness level increases it can become hard to slow the pace down.  Keep the goal of each workout in mind and you'll learn there's no such thing as a 'junk mile'.
Coach Meredith