Winter has arrived in some parts of the world and is creeping up in others.  No matter if you're already fighting cold temperatures and winter precipitation or prepping for it, cold weather running is an unavoidable part of training for a spring race.  Here are four of Team ECRP's tried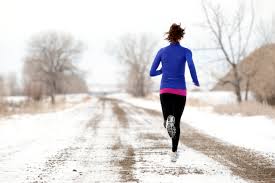 and true methods for powering through those cold, dark winter training runs.
Dress up.  Cold weather running means layers.  It also means less daylight and more of a need to be seen.  Headlamps, reflective vests and brightly colored clothing are all encouraged in the dark, cold months.  Just think of all the fancy gear you can add to your collection so you're prepared for anything nature throws at you.  Neon windbreakers, reflective striped tights and lights on your shoes make cold weather running more fun than those hot days with little to wear.
Take a friend.  Since there's less daylight, it's more important that you have a run buddy during winter than summer.  There's power in numbers for lots of reasons.  Increased awareness of your surroundings, the ability to draft in the wind and body heat.  Other advantages of a running buddy or group during cold weather running include laughter, camaraderie and someone to trade fashionable reflective gear with.
Warm Up.  Get moving before you head outside.  The warmer you are before walking through the door the less you'll notice how cold it really is.  Try jumping jacks, single leg bridges or squats.  Anything that gets your heart rate up is fair game.  It's also nice if it your chosen exercise hits muscles that are about to work.  Think hamstrings, glutes and shoulders.  Be careful not to break a sweat, however, that will make the outdoors worse.
Ready to Finish.  Just like you warmed up before you went out, get ready to come back.  Having dry clothes to get into quickly is incredibly important.  They'll warm you up and increase your comfort level.  Hydration is important in winter too, so having a nice warm drink at the end can be a real treat.  A tasty snack can help keep you motivated to finish a run.  Who doesn't love a big post run slice of cake?  Make sure it contains both carbs and protein and you down it within 30 minutes.
Keep these four things in mind when the winter rolls in and your cold weather running season will fly right by.
Coach Meredith