One mile isn't very far.  It's a racing distance most half and full marathoners are familiar with for only one reason:  mile repeats.  But there are a few things can running one mile all out, as fast as you can, do for you.  Here are four of Team ECRP's favorite, and useful, reasons to race one mile the next time you have the chance.
It's fun.  While time trials are an important part of every training plan, training can get boring.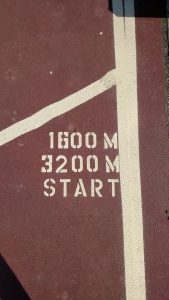 Finding a one mile race might be a challenge but take advantage if you can.  These short, fast races often have similar perks to longer and bigger events because they often take place together.  They can also be exciting to watch and lead you to set new goals.
You learn.  Using your one mile race time will help you establish training paces for other types of runs.  You'll get feedback on where you're strong and what you need to work on.  Racing one mile multiple times in similar conditions is also the best gauge around to see how your fitness is improving.
Bonus speed.  Races always give you an edge over training and that means you'll run just a bit faster.  Not only will you be faster in a race than in a normal time trial, the benefit of pushing harder than you do in practice is seeing the quicker final result and gaining the confidence you need to power through hard workouts.
Recover quickly.  One hard mile is not twenty.  That might sound silly but it's true.  Time trials are typically done as part of a bigger workout on days when your legs are feeling fresh.  Racing one mile means that mile is your workout.  You'll recover quickly from it and be ready to tackle whatever your next training week has in store.
Training to race one mile is different than training for your longer race but including it, or any time trial, in your bigger plan is always worth it.
Coach Meredith