Can I run?  Should I run?  Wondering if you're too sick to run is a common questions for runners.  This is a tough question to answer.  Everyone reacts to feeling badly differently and we all recover at different speeds.  What one person can do with a slight head cold might not work for another.  Here are a few tips to help you determine if you should hit that session or stay inside.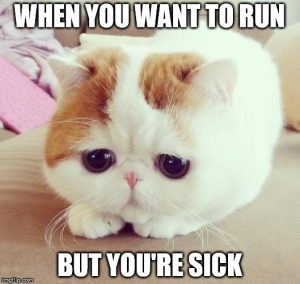 Weather.  Take into account the weather.  Bad weather isn't going to help you get well.  Heading out into cold, windy or wet conditions when you're feeling crummy isn't a good idea.  Working out can put a lot of stress on your body so don't make it even tougher but adding adverse outdoor conditions.  Have an indoor or cross training session instead of braving the elements if possible and don't worry about one or two missed workouts.  You're better off being healthy!
Move Around.  Sometimes getting up and moving around can help you feel better all on its own.  Increasing circulation and putting muscles to work will kick your body into repair mode.  We tend to be idle when we aren't 100% and that can make things worse.  If it feels more like lack of motivation than actual sickness, get up and move.
The Neck Rule.  If your symptoms are above your neck, say a runny nose and mild headache, you're good to go.  When symptoms present below your neck, such as coughing or weakness, you should probably skip out.  The single exception to this rule is a fever.  If your temperature is climbing, stay put and enjoy some chicken soup with a movie.
Activity Level.  Many tapering marathoners catch colds.  Their bodies are so used to repairing and fighting during months of training that when they take a breather the immune system goes bonkers.  You're probably not too sick to run if that's your situation.  You won't be doing any incredibly challenging workouts anyway, so enjoy those few light weeks even if you're not 100%.
Coach Meredith