Race day can be stressful.  Of course you've trained but simply logging workouts isn't always enough. You've worked hard for weeks on end to hit a goal time and the pressure is on. Luckily there are steps you can take to alleviate some of that stress for lots of success in your next big event.  Here are three additional ways each member of Team ECRP makes sure they're ready for race day.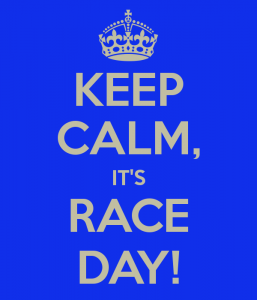 Practice.  Odds are you're training.  Whether it's a marathon or a 5k practice is important.  Prepare by running race pace workouts and figuring out a nutrition plan that works for your body.  Run in all kinds of weather since you never know what race day might bring.  Wear the clothes you plan to race in on a few training runs.  No one wants to miss that new PR because they had to stop for a gear issue.
Visualize.  The mind is a powerful thing and that makes visualization a very useful tool.  Imagine yourself crossing the finish line with your goal time on the clock and the excitement that goes with it.  Picture burning through the last mile of a 5k or struggling through the final 400 meters of a marathon.  Being more familiar with what the race will feel like only makes you tougher.  Get into the nitty gritty of what the weather is doing, how sweaty you'll be, what it will smell like, who will be there.  You might have to adjust your weather visualization if the forecast changes but flexibility only makes you stronger.
Plan.  Race day can be anxiety creating even if you're walking to the start line.  Driving can make it worse.  There might be traffic, full parking lots, stressed out runners, confused spectators and a guy with a dog on an extend-a-leash.  Having a plan will eliminate race morning stress by streamlining your path to the start and help you perform your best out on the course.  Look at parking maps, arrive early and pick up timing devices the day before if possible.  Choose a location to reunite with your support team at the finish.  Once a plan is in place you can sit back and focus on running an amazing race.
Use these tips to be physically, mentally and logistically prepared for an excellent race day experience.
Coach Meredith