Running a marathon is tough.  Racing one is even harder.  Whichever path you chose to cover 26.2+ miles you need to be prepared for the long journey.  Getting marathon day ready is more than simply logging those training workouts.  Making sure you're prepared for race day is an important part of any well rounded training plan.  Here are four things every Team ECRP knows before they toe the line at their marathon.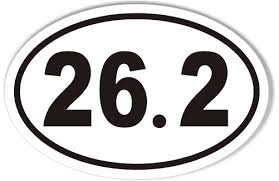 Test Nutrition.  Everyone has to have something to eat or drink while on the marathon course.  While most of us won't get designated bottles we can still control what goes into our bodies.  Find out what they'll have on course for hydration and fuel then practice with it.  It might work for you and it might not but marathon day is not when you what to find that out.
Train in Bad Weather.  Not only does training when the weather's crummy, not dangerous, make you a bad ass, it prepares you for the unknown you'll face on race day.  It's tough to get out there when it's cold or raining but it's also very important.  Determine what conditions you could face on marathon day and train in them.  Run in the cold, rain and snow and your finish time will thank you.
Wear Your Gear.  We all have favorite pieces of gear.  That pair of lucky underwear or special pair of bright race day shoes is a must for marathon day.  Those pieces are likely well broken in but that doesn't mean our socks, hats and sports bras are.  Never wear anything new on race day especially holds true when you're covering 26+ miles so make sure whatever you're going to put on has been worn on at least one or two long runs during training.
Plan for Logistics.  Marathon day can be a nightmare even if the start is right outside your front door.  There's traffic, stressed out runners, confused spectators and that guy with a dog on too long a leash.  Know where you'll park, where the start and finish are and where you'll meet your support afterwards.  Having a plan will eliminate race morning stress and help you perform the best you can out on the course.
Use these tips to create a plan that works for you and you'll ace any marathon day test you face.
Coach Meredith