Runner need to do things other than run to become faster, more powerful athletes if there's a PR sometime in the future.  While strength training is incredibly valuable, agility training is equally as important and unfortunately also overlooked.  Agility training has lots of big benefits from making you a stronger all around athlete to building better body awareness.  Here are several fun ways to enhance your running with simple agility exercises.
Form Drills.  Running form drills are usually included in a good warm up.  That's because they get your body ready to run and ready to run well.  Drills such as carioca, 'a-skips', 'b-skips', butt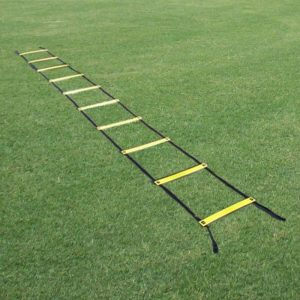 kicks and high knees all build strength, coordination and promote high quality running form.  These agility skills can be also be practiced on their own, outside of a warm-up.
Agility Ladder.  Also called a speed ladder this simple tool can have big benefits.  Moving your feet fast through the ladder will carry over to less contact time when you're running.  Jumping movement will build ankle strength, foot responsiveness and explosive power.  An agility ladder is a good place to improve footwork, learn how to control your body and the amount of energy you're putting into the ground.
Cones.  Like the agility ladder, there is an endless number of exercises you can perform with a bunch of cones.  These provide a chance for bigger lateral movements than the ladder and can be especially beneficial to trail runners.  Using cones will develop your ability to accelerate, change direction and move your feet quickly.  Try a variety of configurations and run on angles for the biggest benefits.
Include at least some of these agility training exercises in each of your warm-ups and add a few more to your normal non-running routine.  You'll get stronger and faster with their help.
Coach Meredith