No one likes to see a race course filled with hills.  It makes for harder work and less of a shot at a PR.  Fortunately there are big benefits to running hills while you train for any race, especially an up and down one.
Pure Strength – It's hard work running uphill.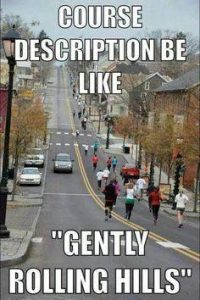 More muscle fibers have to fire and generate power to maintain your flat ground pace running uphill.  It also requires different muscles to work in different ways than flat running does and that's good for building powerful running glutes.  In contrast, running downhill gives your quads tons of work to do and is also something that should be practiced regularly.
Build Confidence – If you can rock it in practice, you can beat it on race day.  Tackling hills on training runs is an invaluable tool in preparing for the unknown of an unfamiliar race course.  Being comfortable with running uphill a bit slower than race pace and down the other side a bit faster can be a huge benefit on a tough course.  Learning to control your downhill speed can also be a big help later on in a net downhill race.
Speed Work – Like speed work on flat ground, running hills makes you work harder than normal.  The knee drive and power required to run uphill lead to better running form and glute activation.  It's a good place to work on increasing turnover or cadence for faster running and lower injury risk long term.  Increased resistance to fatigue and increased overall endurance are additional benefits of hill sprints.
Adding hill work to your training plan is important no matter what your next running goal is.  Make sure you use a qualified coach when you're ready to start running hills so you do safely.
Coach Meredith