Race week is stressful.  What's the weather doing?  How early do I need to get to the start?  Is there parking?  It's even worse if you're traveling.  Will my flight be on time?  Does the hotel have an airport shuttle?  Is parking free?  Luckily having a solid week leading up race day can help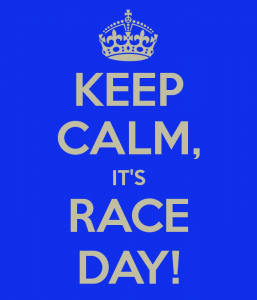 ease some of the race day stress.  These are some of Team ECRP's go to race week workouts to ensure a stress-free morning and successful race day.
Best done two or three days before race day, these short repeats focus on form and quality.  Race week is for sharpening up your body for hard work, not for making gains.  Throwing short bursts of speed into your otherwise lower mileage week maintains your fitness without additional stress.
400M Repeats – After a full 2 mile warm up complete 4 x 400M repeats at 2k pace with 2 minutes of very easy jogging or fast walking in between.  Running this workout faster than 5k pace will make your race day pace feel like a breeze.
Short Sprints – This is one of our favorite race week workouts because we still get to cover some miles.  Performed at faster than race pace to keep those strides long and powerful, these 30 second efforts are tons of fun.  Run your normal full 2 mile warm up then complete 8-10 repeats of 30 seconds at mile race pace with 5 minutes of easy jogging.
Alternating 200s – This workout alternates 200M of work with 200M of very easy jogging.  Complete a full warm up of at least 2 miles before starting 8-10 repetitions of 200M at 5k pace and 200M at recovery pace.
Easy Run – No matter what workout you choose to do, you'll need an off or rest day before your race.  A shakeout run the morning before you toe the line is a staple for most runners.  It allows you run easy while getting muscles moving and blood flowing without depleting any glycogen stores or extra energy.
Mix and match these race week workouts for each 5k you're tackling or find one you like and stick with it or mix it up each time.  Either way, make sure you have fun and remember to save it for race day.
Coach Meredith