All runners need to strength train.  That doesn't mean taking up CrossFit or hitting the gym on a daily basis.  You can get all of the big benefits listed below from a simple, body weight program two to three days a week.  Read on to find out how starting to strength train will make you better athlete.
1. Stronger – There's more in common between runners and lifters than meets the eye.  Just like runners need to practice running faster to have faster race times, lifters face the same challenge when they strength train.  This pattern of overloading muscles makes not only muscles but tendons, ligaments and joints work harder.  Working under reasonable loads as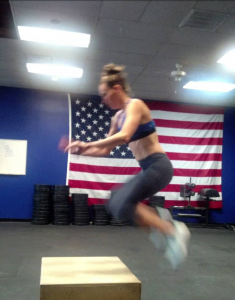 simple as your own body weight means strong, durable muscles and joints that can take more intense training with ease.
2. Better Athlete – Strengthening your body has been shown to improve coordination.  That can translate into more efficient running form and faster race times.  Training tools such as agility ladder drills and plyometrics are an important part of the plan and build power.  Dynamic, quick weight lifting movements can also be beneficial to those looking to produce strength, power and coordination.
3.  Variety – Just like with running workouts you'll want variety in your strength program.  This not only keeps it interesting but continues to challenge your body in new ways regularly.  Pushing your body to work in new and different ways, whether it's a new exercise, more weight or higher repetitions is how your force it to adapt and improve. And who doesn't want to be better?!  The good news is there are endless ways of combining exercises to get a good workout in.
4. Injury Prevention – Along with the durability you'll gain from hitting the weight room you'll become more resistant to injury.  Those stronger tendons, ligaments and muscles hold up under stress better than weaker ones.  In order to strength train properly most runners will have to also focus on improving their mobility and flexibility.  Increased ranges of motion make it easier for your body to work and can lead to decreased injury risk.  Another major benefit is that using unilateral (one side at a time) exercises can eliminate muscle imbalances.  Muscle imbalances often lead to injury or over use of one side.  We're all born favoring one side but it doesn't have to be that way forever.
5.  Speed – Muscles that lift weights become fatigue resistant.  That means you'll use less energy to get somewhere in the same amount of time you did before.  Check out this study that demonstrates it.  Remember the strength, durability, power and coordination you built earlier?  They'll work together to translate into faster race times.
Be sure that your strength program is designed for runners to prepare you for a stronger run rather than take away from it.  Seek the assistance of a qualified coach and start hitting the gym today!
Coach Meredith