Winter.  Summer.  Each comes with its own set of weather based challenges.  From high temperatures to icy roads anyone can get forced into an indoor workout once in a while.  While it might seem like the dreaded treadmill is your only option there are plenty of alternative choices that are equally as effective at working you out.  As long you're not ditching all your miles trying one of these alternatives will keep you safely inside and ensure a quality workout.
Water running.  If you have access to a pool water running can be a great option.  Frequently used as a tool for injured runners to stay in shape while the heal, running in deep water with the aid of a floatation device is a great alternative to dangerous outdoor conditions.  Pushing through the water will strengthen muscles and hip joints while still getting your cardio in.
Strength training.  Every runner needs strength training.  It provides tons of benefits from increased endurance to better form and faster times.  There are thousands of options for exercises and classes out there so find something you like.  Focus on higher intensity activities with weights on the heavier side to build running muscles.  Perform exercises that strengthen your entire body so it can support you for as long as you want to run.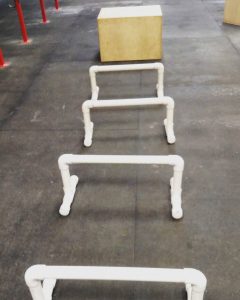 Plyometrics.  Plyometrics can fall under strength training or it can be performed on its own.  Jumping is a great way to build running power.  Whether it's box jumps, jump rope or lateral bounds jumping around will get your heart rate up while making your quads, hamstrings, hips, knees, ankles and feet stronger.
Yoga.  With the massive variety of yoga classes available at most studios you're sure to find something that will get your heart rate up.  Mobility is a big issue for lots of runners but having a good range of motion is incredibly important.  This indoor workout will help you stretch, open up joints and relax all at once.
Coach Meredith