The running community is amazing.  From elite athletes to first time 5k runners the support and enthusiasm is tangible everywhere.  While there are running events all year long, spring and fall are home to most of them.  Every weekend from March to November is packed with some kind of race.  After participating in a few, it's nice to give back and help other runners have the great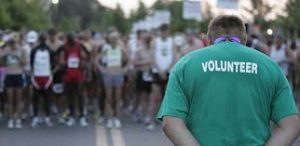 experiences you do.  Here are four of Team ECRP's favorite ways to give back to your local running community.
Volunteer – If incredible people stopped volunteering for running events, 95% of participants would be priced out and thousands of events would be canceled.  With a multitude of places to pitch in there's sure to be a spot for you.  Consider a water stop, handing out medals or directing traffic.  Can't make it on race day?  Help with packet pick-up or pre-race course set-up.
Organize – Put together your own race.  You'll need some of the valuable volunteers mentioned above but if a cause is near and dear to you, support it!  Putting together an event can also be a great opportunity to meet others in your area.  Between sponsors, volunteers, t-shirt printers, timing crews and participants organizing a race will bring you into contact with tons of people who love running.  Who knows?  You might even find your next chance to give back.
Cheer – Happen to crash into a race during your long run or while exploring a new city?  Stop and cheer for a few minutes.  Spectators are the backbone of the running community and some people pick races based on how many will be out there.  It won't cost you a thing and you might just be the one encouraging word that helps a someone hit a new PR.
Coach – There are lots of organizations that need volunteer coaches.  From your local track club to the national Girls on the Run there's nothing more rewarding than helping children find something they love.  Even if one of the kids you work with isn't the next Usain Bolt, the rewards you'll reap are great.
What are your favorite ways to give back some of what the running community gives you?
Coach Meredith