There's nothing quite like going for a trail run in the fall.  Changing leaves, cool breezes and fresh air make for lovely running weather after hot humid summers.  Whether you head out on your own or take a pack of buddies with you, the peace of a trail can't be beat.  Here are four great reasons to check out your local park this fall.
Scenery – The city and its lights are awesome.  They provide the opportunity to run at all hours in relative safety.  But even those attributes can't beat getting lost in the woods.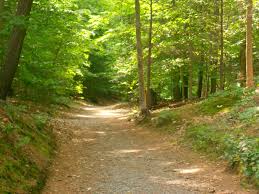 Of course, not actually lost.  There's no better place than a nice long trail run to spend some time with your thoughts while admiring the foliage and animals packing away for winter.  The change of view will also do your brain good.  Check out this study on just how hitting the trails makes us happier.
Surface – The dirt you'll face when on a trail run is a welcome break from the hard pavement most of us usually run on.  The decreased rebound you feel on turf means your race tired knees and hips take a little less pounding every step.
Strength – Running on an uncertain, uneven and sometimes covered surface means your ankles and feet have to work extra hard to keep you upright.  Not only do your feet have to quickly react to the challenges of climbing hills, hoping over roots, dodging rocks and splashing through streams, your calves, quads and core are also pushed to respond quickly to the constantly changing path.  A little extra work on the trail means better results on the pavement and a stronger, more durable running body.
Accessories – There's no better time than a nice long trail run to try out new running toys.  Check out some new trail shoes (they're comfy).  Want a brighter headlamp?  Perfect opportunity.  That old CamelBak need replacing?  Good timing.  You most definitely need a new lightweight reflective jacket.  Hitting the trails for fall is a great excuse to invest in high quality new gear.
**Trails are also dangerous places.  Wild animals are exactly that, wild.  Remember to play to safe with snakes, bears and even squirrels.  Wear some reflective gear, a headlamp and bring food and water.  Be sure someone knows where you're going, what time you should be back and how to handle it if you're not.**
Then go have fun!
Coach Meredith