Running shoes.  There are more styles, colors and types than most people know what to do with.  That doesn't mean, however, they aren't important.  The things you put on your feet when you head out the door for a run is ta crucial factor.  Shoes can make you faster, slow you down, protect your foot from debris and help stabilize an unsteady gait.  Making you feel pretty or more fun is usually an added bonus.  Here are a few kinds of footwear you might find while browsing and what each can do for you.
Training shoes.  This is a comfortable everyday shoe with a reasonable drop and amount of cushioning.  Covering 20 miles in these old friends should be no sweat.  You'll spend the most time with these trusty companions so learn to love them.  There are tons of choices in this type of shoe so get fitted by a professional and make sure your feet are happy.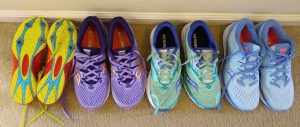 Racing Shoes.  New or returning athletes won't initially need a pair of race specific running shoes.  This special pair of kicks is designed to help you go a bit faster on race day.  With lighter materials and less cushion they're daintier than your training shoes.  The oftentimes lower drop in light shoes will make your entire leg stretch a little bit more with each step and the firmer build will make each muscle absorb a little more impact.  Those factors put additional stress on your body making them less than ideal for lots of training miles.
Tempo Shoes.  The above paragraph not withstanding, training in the shoe you'll wear on race day is very important.  You risk a serious injury if you only train in cushioned shoes then go out to race a marathon in a racing shoe.  This lighter weight trainer is somewhere between your race shoe and training shoe, leaning towards the former.
A recovery shoe.  This cushy, comfy shoe is for the easy days.  Recovery running shoes are fluffy and have lots of padding.  They have a big drop to give your muscles a break from all the  stretching and contracting of a lower drop pair.  While the shoe won't provide any extra benefit like a massage or compression it will give your legs a breather.
A trail shoe (or something else).  A special model designed for the roughness of unpaved, gravel and dirt surfaces not everyone needs a trail shoe.  Typically heavier with a thicker sole running shoes dedicated to trails are a good tool if you're heading off road.  Additional options include spikes for cross country or track running, racing flats and any other special occasion footwear you can find.
Coach Meredith