Winter is coming around and is often a time when people set their spring goals.  Thinking about that, I recalled a great learning moment i had in November 2016.  It was the opportunity to meet and listen to Jared Ward.  Not only is he an incredibly kind and intelligent person, he finished sixth in the marathon at Rio 2016.  Known as the fastest mustache in the marathon Ward won the 2015 US Marathon Championships in 2:12.56.
Always eager to learn everything I can that will make me a better coach, I was excited to attend his meet and greet at a race expo.  These are some of the highlights from the 90 minutes he spoke to us and Jared Ward's paraphrased thoughts on: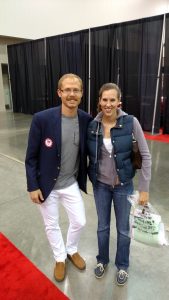 Your first marathon:  Spend time on your feet.  Ward suggests cross training on a elliptical or bike "if additional running is pounding your legs."  He emphasized building up your mileage and developing aerobic fitness as marathon readiness tool number one.
Handling Heat and Humidity:
Train your stomach.  "It's a muscle, too," he says, and can be taught to handle the additional fluid you'll need.  Practice during training runs by downing 3-4 ounces of fluid instead of the usual two.
Fueling a long run, marathon, ultra or anything really:
Find what works and stick with it.  Try different varieties of gels, blocks and fluids until you figure out what sits well in your stomach and isn't a distraction.
Cross training:
When he was looking for something to do, a friend suggested Jared Ward join him in the mountains of Utah, where he lives and trains, for a mountain bike ride.  Just as they were about to take off, Ward was told that after the ride he wouldn't want to run anymore.  He "still loves running" but has found mountain biking to be his favorite alternative.  He "hate[s] swimming" and believes everyone should find what works best for them.
Easy Runs:
Ward emphasized the importance of making easy runs just that, easy.  Keep the pace casual and focus on making sure the time on your feet runs "don't interfere with your next workout."
If you ever have the chance to meet the muschtached mathematician marathoner, grab it.
Coach Meredith