Yoga is an excellent tool for runners to have in their fitness toolbox.  While they don't need tons of static flexibility, which can actually take power away from you, it is important to have strength through a full range of motion at all joints, especially the hips.  Spending a few minutes each day going through some or all five of these yoga poses will also help relieve muscle soreness and provide relaxation.
Downward Facing Dog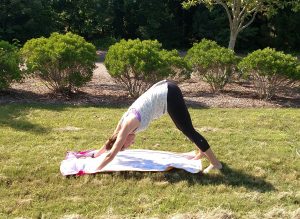 An easy pose to do just about anywhere, down dog is an excellent way to wrap up a workout.  It stretches your arms, hamstrings, glutes, shoulders, calves and feet.  Hang out like your pup for up to three minutes taking deep breaths to build arm and leg strength while reaping the pose's calming effects.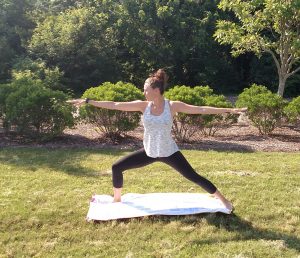 Warrior 2
This standing pose will help you open those post run hips.  With feet 3.5-4 feet apart and your back foot turned out, reach from your shoulders with arms parallel to the ground.  Sink down until your front thigh is also parallel to the ground while your torso stays tall over your hips.  Perform on both sides to get all of the leg, hip, groin and ankle stretching and strengthening benefits.
Plank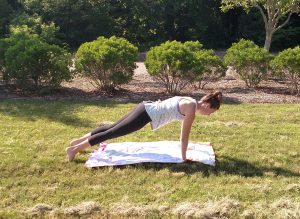 Of all the yoga poses, this one is one of the most simple.  Great for stabilizing your core, make sure you're hips stay high and your shoulders are directly over your wrists or elbow when performing it.  Use this simplest plank to improve your running posture while strengthening your shoulders, arms and wrists.
Low Lunge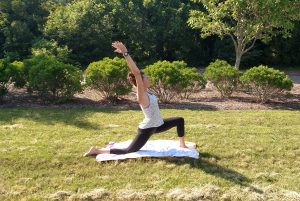 This hip opener is perfect for both before and after your run.  After stepping back with one leg be sure to keep your front shin vertical as you reach both hands to the ground on the inside of the front knee.  You'll feel it stretch your hips, thighs and chest as you repeat it on both side.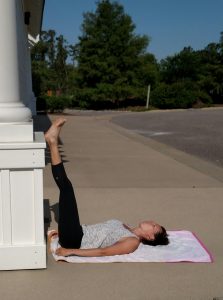 Legs on the Wall
You get a little help on this one.  Raising your legs vertically above your head while keeping your sit bones in contact with the ground might be the perfect pose.  It has health benefits as well as stretching ones.  It doesn't matter how close you are to the wall in the beginning.  Tighter runners will need to be further away to keep their lower back supported.  You'll move closer and your flexibility increases.
Add these yoga poses to your pre- and post-run routines to prevent soreness, relax and improve mobility.
Coach Meredith