It sounds boring.  Perform a plank every single day.  There's good reason to, however, especially for runners.  With endless options for the type of plank you choose to do there's bound to be a few you can pick from.  No matter which ones you end up practicing you'll get these three benefits and become a stronger runner.
Strength.  Planks increase core strength and stability while activating lots of other supporting muscles as well.  Regular plank works your entire frontal plane, from your chest to your quads.  Reverse it to hit shoulders and glutes along with those all important core muscles.  You can even add other movements to your planking.  Try a renegade row or windshield wiper for a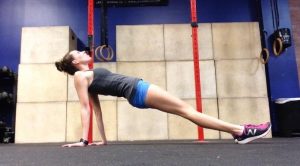 tougher challenge that will build strength through your whole running body.
Balance.  Performing unilateral varieties like side planks will help eliminate muscle imbalances  that can, eventually, lead to injury.  Less risk of injury is a big benefit of all strength training but especially of one side at a time work.  We all have a tendency to favor one side that becomes more and more dominant as we ignore it.  Making both sides pitch in leads to more power and more even impact during activity.
Better running.  With the strength and balance you're building by tackling that plank each day your running form will improve.  You'll have better posture with an upper body and core that can support faster running for a longer period of time.  Proper positioning also stretches the muscles of your foot, an area that often gets overlooked.  Fully functioning feet are an important part of quality running and planks can help.  Add those benefits together and it all means better race finishes.
Tip:  Create a set of flash cards each featuring a different variety with the type on one side and your times or reps on the other to record progress.
Coach Meredith