Spring is coming!  There's no better time to get out there and start logging the miles.  In fact, you see them everywhere.  Runners.
Any day of the week, all hours of the day you can find someone working towards their next PR.  Oftentimes, you'll see groups of them together smiling, chatting and laughing while they tick off those long runs.  And you can join them!
There are lots of benefits to joining your local running group, whether it's five people or five hundred.  Most of them are free or provide some benefits for a small membership fee.  Here are just a few of Team ECRP's favorite reasons:
Guidance:  When you're part of a big running group it's inevitable there will be someone at every level of experience and ability.  That makes each outing a perfect time to learn something and become a better runner.  Have a nagging heel pain?  Someone else has, too.  Trouble fueling on those long runs?  There's probably a brand of gel somebody loves that you haven't heard of yet.  Take advantage of the opportunity to further your running knowledge and you'll reap the benefits.
Motivation:  Perfect running days are hard to come by.  Constantly forecast checking and saying 'at least it's not raining' are sure signs of a runner.  But that doesn't mean it's easy to get out the door.  Having a few friends to meet up with provides accountability on ugly days and can keep you going when a run gets tough.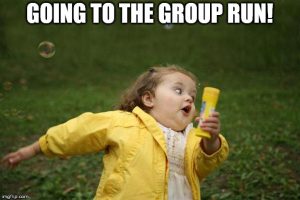 Safety:  Just like your friends can hold you accountable and help you forget about how awful that 20 miler was, they help keep you safe.  Especially for women there is safety in numbers.  Having at least one buddy makes everyone less likely to be attacked in any way.  It also means faster access to whatever you need if there's an injury or medical emergency.  Use your local running group to make new best runner friends and you'll never have to worry.
Socializing:  This is the most important one, of course.  We all love our post long run beer, taco, pizza or all three and, honestly, there's nothing runners like to talk about more than running.  A local running group is the perfect place to find people to run with, learn from, race with or just plain old hang out with.
Coach Meredith