Summer running is coming.  It might already have hit summer time temperatures and humidity, where you are but that doesn't mean your training is over.  The fall is a wonderful time to race any distance and to get there you have to fight through some tough summer days.  Here are five tips that will help you keep summer running safe, effective and fun.
Hydrate.  Nothing is more important than staying hydrated when it's hot or humid, or both, outside.  Even if your summer running mostly takes place in the shade, fluid intake is a must.  Run somewhere with easily accessible water fountains or place bottled water along your route.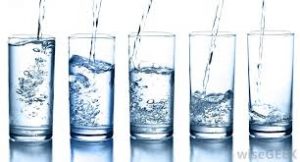 Sports drinks, electrolyte and salt tabs or even some table salt added to your water are also good ways to ensure your body gets what it looses from sweating out there in the warmth.
Cover up.  Pants and long sleeve shirts will definitely be too much but you still need to protect your skin as much as possible.  Wear light colored clothes that reflect the sun's rays and slather on the sunblock.  A hat and sunglasses will also help keep sun damage at bay.  Use the shade from trees and buildings as much they're available.
Adjust your schedule.  It's easier said than done but moving the times you hit the road can have a big impact.  Weather is usually cooler in the morning or evening and you'll have the benefit of being out of the directly overhead sun.  There's more coverage from shade as the sun rises or dips so plan routes accordingly.
Slow down.  Your body will be working hard to keep you cool before you even finish your warm up.  It's not a good idea to the additional stress of running as fast as you can on top of it.  Women tend to fare better than men and smaller people better than large ones but everyone feels the pain.  Dropping your pace is a must.  With decreased blood flow to muscles, increased sweating and more demand planed on the heart, trying to maintain your January paces is just not worth the danger.  Summer running paces can drop by as much as 3 minutes per mile compared to cooler weather!  For a more detailed breakdown, check this out.
Relocate.  No, don't move to a cooler climate.  Take your workouts somewhere else.  If you're always training on the sun baked roads, try shade filled tree lined trails.  Committed to working on your tan?  Try the waterline on a beach.  Neither of those sound reasonable?  Head into the AC and have some fun on the treadmill with these workouts.
More than anything else, stay alert for signs of any heat related difficulties and listen closely to your body.  Take the dangers of summer running seriously, prepare to beat them and you'll be ready to PR this fall.
Coach Meredith