Lots of runners have friends who aren't.  In spite of the fact that one of us might be hanging out with people who could care less about your latest long run, there's only one thing we like more than actually running.  Talking about running.  To make sure your friends can stick with you, give them Team ECRP's basic list of running terms to guide them.
Race Pace – This is the pace at which a runner tackles a race.  It varies with race distances since we run faster for a 5k than we do for a marathon but the idea is always the same.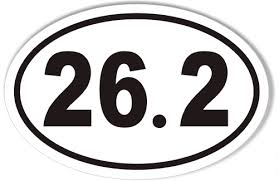 LSD – This does not reference the narcotic and there's no hallucinating here.  It stands for Long Slow Distance run and is a staple of all training plans. The one your runner friends stay in on a Friday night for.  Longest run of the week, the LSD is a weekend staple.
Fartlek – Swedish for speed play, fartleks aren't only fun to say, they're fun to do.  Used by the best runners in the world, these constantly varied outings are an important part of training at any level.
Bonk – Also known as hitting the wall, it typically happens around Mile 20 of the marathon.  Bonking is the moment your body starts to quit on you.  You're out of fuel, energy and the final 10k is pure willpower.  It is possible to avoid, however, through proper mental and physical training.
PR/PB – Personal Record in the US and Personal Best both here and abroad this stat is a runner's most prized.  It's their fastest time a given race distance. A runner's PR is different for every race length so make sure you know them all.
Foot Strike – Runners don't strike like unions, they strike the ground with every step.  It's also been hot topic of debate lately. Often equated with another running error known as over striding, foot strike is not the concern it was once thought to be.
DNF/DFL – Did Not Finish or Dead F*****G Last.  There are a million reasons you might DNF a race.  It could be an injury during the last few weeks of training.  Bad weather popping up before you're finished.  Digestive issues from the pasta dinner has been a culprit.  The truth is most runners have had one.  DFL, however, is less common.  Since someone has to be last, races usually have a sweeper.  To make sure no one is left behind the sweeper stays behind the final runner for the duration of the race.
BQ – The ultimate, bucket list goal for many runners.  BQ is one of the most hallowed running terms.  Short for Boston Qualify, it means you've earned the right to run in America's most famous Patriot's Day race.  Achieving a BQ is an incredible accomplishment and often a dream come true for any marathon runner.
And this just covers the basics.  There are a ton of running terms out there to learn if you want to.  Luckily, if you take these with you next time you go support a friend or family member at a race no one will know you're a newbie!
Coach Meredith