All runners know they need strong, stable legs and hips to get the most out of each run.  Equally as important, and often overlooked, is upper body strength.  Being powerful above the hips as well as below will help you run faster and perform better during every workout.  Your arms move in precise coordination with your legs to help maintain rhythm while your shoulders work to maintain good posture that allows your lungs and diaphragm to do they best job they can.  A strong core stabilizes against rotation that wastes energy and helps propel you forward.
So how do you build upper body strength?  There are tons of exercises you can use.  Focusing on muscle groups that improve and maintain posture is the best path to building strength that will make you a better runner.  That means your back, chest, shoulders and, most importantly, core.  While you don't want to end up carrying extra muscle weight by bulking up, you do want strong, stable muscles that will hold you up when the going gets tough.  Here are four of Team ECRP's favorite upper body moves:
Push-Ups:  Push-ups stabilize shoulder, strengthen arms and work those important core muscles.  Performing them correctly, with your elbows tight to your ribs and externally rotated shoulders, will improve running form and efficiency.
Plank Rows:  These toughies challenge your entire upper body.  Your shoulders and core work to stabilize your position while your back works to lift that weight.
Pull-Ups:  Adjustable for everyone, this challenging exercise is a great way to get a stronger, more stable upper body.  From strict pull-ups to ring rows, the wide variety of scaling options means there's no excuse not to try.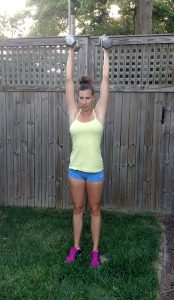 Overhead Press:  Yes, any overhead press will do.  Whether it's a strict press, thruster, push-press or clean and jerk, lifting weights over your head takes skill and strength.  Your core stabilizes your entire body while shoulders work to push the weight up.
Use these four moves to help build upper body strength.  You'll earn better running form and faster race times.
Coach Meredith