The long run is a staple of every runner's program. And it should be because it has tons of benefits. Regardless of what race distance you're training for, it is an important part of your weekly mileage. Here are some of the big gains you can earn with your weekly long run.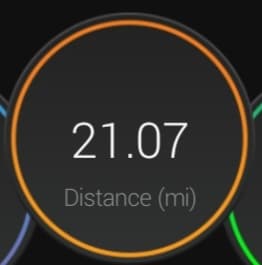 Builds volume (and fun). The long run contributes a large portion, up to 30%, of your weekly mileage. Running more miles improves your efficiency and strengthens your heart. It's also a great time to run with friends and have some easy paced fun.
Mental toughness. The long run usually comes towards the end of the week which means you're tackling it on potentially tired legs. Marathons are hard and you'll need to practice being uncomfortable if you want to succeed on race day. These long miles provide the perfect opportunity to get your head, as well as your body, ready for anything.
Learning how to fuel. Never try anything new on race day. Long runs give you a chance to learn. Try different fuels on training days, not when the pressure is on. Take the opportunity to explore fueling at different times, different types of hydration and figure out what works best for you.
Stronger bones, tendons and ligaments. Running puts a lot of wear and tear on the body. The cumulative stress from running lots of miles makes your body stronger, as long as you recover adequately. That means your body will hold up better to the strain of race day and can produce more power over the long haul.
How to do it: The long run should be run at roughly 90 seconds slower than your goal race pace. It can also be slower than that or include race pace work. To build the right run for where you are in your training cycle, reach out to a qualified coach.
Where to do it: Anywhere! The long run is a great tool to explore a new city, trail or park. Make sure you check routes for potential hazards, like lots of traffic or no shade, or helpers, like water fountains and restrooms, before you run them.
Get excited for your next long one and have fun out there!
Coach Meredith